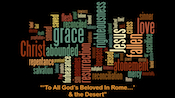 Rom. 1:16 ¶ For I am not ashamed of the gospel; it is the power of God for salvation to everyone who has faith, to the Jew first and also to the Greek.
Rom. 1:17 For in it the righteousness of God is revealed through faith for faith; as it is written, "The one who is righteous will live by faith."
If Romans were a symphony, these two verses would be the theme that you will here underscored in every revolutionary movement.  As long as we hear with "needing" ears, it is clear as a wondrous bell.
As W. H. Griffith Thomas puts it,  "salvation is for everyone, from every sin, at every time, in every place, under every circumstance"