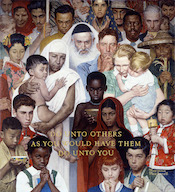 James 3:8 but no one can tame the tongue—a restless evil, full of deadly poison.
James 3:9 With it we bless the Lord and Father, and with it we curse those who are made in the likeness of God.
James 3:10 From the same mouth come blessing and cursing. My brothers and sisters, this ought not to be so.
Eph. 4:29 Let no evil talk come out of your mouths, but only what is useful for building up, as there is need, so that your words may give grace to those who hear.
     After spending a few weeks on how not to treat people in what we say to them, we conclude today what what we can say.  If we believe our hurtful words can be likened to murder, then we must also believe that they can also build up and heal.
     What better way to end our summer study of "Doing to others" with a few words that can heal?