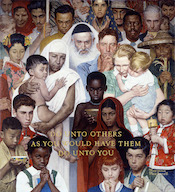 Matt. 7:11 If you then, who are evil, know how to give good gifts to your children, how much more will your Father in heaven give good things to those who ask him!
Jesus uses the rabbinic argument called the Val Ha Qomer.  The argument from the greatest to the least.  If the least can count on it, then how much more can the greatest count on it?
God loves the birds and flowers, "How much more" you, then?..
We begin in the chapter where you find the Golden Rule to establish context, platform, and the lens we are to view others before we ponder:
Matt. 7:12 ¶ "In everything do to others as you would have them do to you; for this is the law and the prophets.