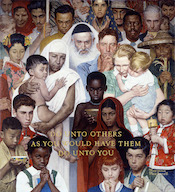 Neh. 9:16 ¶ "But they and our ancestors acted presumptuously and stiffened their necks and did not obey your commandments;
Neh. 9:17 they refused to obey, and were not mindful of the wonders that you performed among them; but they stiffened their necks and determined to return to their slavery in Egypt. But you are a God ready to forgive, gracious and merciful, slow to anger and abounding in steadfast love, and you did not forsake them.
If our words are to fall under Jesus' Golden Guideline then we must give room and space to the Holy Spirit.  Anger & the violence it brings gives no room nor space.
Let's look at the guidelines the Bible gives us for anger: