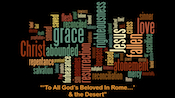 Rom. 13:8 ¶ Owe no one anything, except to love one another; for the one who loves another has fulfilled the law.
Rom. 13:9 The commandments, "You shall not commit adultery; You shall not murder; You shall not steal; You shall not covet"; and any other commandment, are summed up in this word, "Love your neighbor as yourself."
Rom. 13:10 Love does no wrong to a neighbor; therefore, love is the fulfilling of the law.
These verses in Romans 13 need no setting of context as Romans 12 has set us up well to understand them.  However the verses that come before certainly need careful context.  Let's work thru them together and let the context give us a clear picture of how a people of faith live out their lives of love…