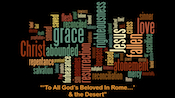 Rom. 5:1 ¶ Therefore, since we are justified by faith, we have peace with God through our Lord Jesus Christ, 
Rom. 5:2 through whom we have obtained access to this grace in which we stand; and we boast in our hope of sharing the glory of God. 
The words used in our study today – reconciled, reconciliation, saved, justified, loved, hope, character,  endurance, boast, exult – all culminate in the one word we all long for – Peace, shalom.  Longing for peace can end today, end now, if we would simply believe.