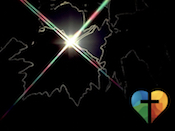 In reviewing all of the articles written in late 1999 about the events and people that had the most impact on human history, the Reformation was in the top 3 of every one.  But this is the way the prophet describes this earthquake of church impact on the world:
Rev. 2:19 ¶ '…that your deeds of late are greater than at first…"
You are doing a little better than you have been… Wow.  That's it!
So in the history of the church between Thyatira and Sardis,   The Reformation "bridges" them both.
Thyatira:  538-1563 CE    Sardis: 1570-1798 CE    1517: Reformation
So what has this "earthquake" done for the church in 280 years?
Rev. 3:1 ¶ "And to the angel of the church in Sardis write: These are the words of him who has the seven spirits of God and the seven stars: ¶ "I know your works; you have a name of being alive, but you are dead.
She is dead.  A name, a reputation, a history of being alive, but dead.  They are spiritually lifeless.  She needs breath, needs spiritual life.
In the message to Sardis, Jesus gives much needed life to the church for all time…