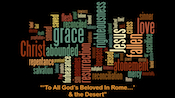 Luke 15:20 So he set off and went to his father. But while he was still far off, his father saw him and was filled with compassion; he ran and put his arms around him and kissed him.
Luke 15:31 Then the father said to him, 'Son, you are always with me, and all that is mine is yours.
In the parable of 2 lost sons – One had to believe that his Father still loved him even after all he had done.  The other had to believe that the Father loved him because he was His son and not because he stayed home and worked like a slave.
The older brother cannot admit he needs his Father's grace as much as his dirty little brother. Could it be he finds shame in just believing.  Paul says though, he is not ashamed.  Welcome to the 2nd part in a subchapter of Romans – "What Happened to Israel?"  Romans 10