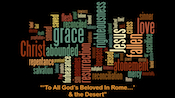 Rom. 11:30 Just as you were once disobedient to God but have now received mercy because of their disobedience,
Rom. 11:31 so they have now been disobedient in order that, by the mercy shown to you, they too may now receive mercy.
Rom. 11:32 For God has imprisoned all in disobedience so that he may be merciful to all.
If we have come to conclusions concerning Israel, Gentiles, chosen, remnant, faith, works, and who belongs and doesn't we may want to ease our grip on them until we hear Paul conclude this section in Romans – Lessons for all the olive branches.