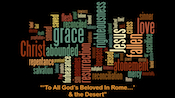 Phil. 3:4 …If anyone else has reason to be confident in the flesh, I have more:
Phil. 3:5 circumcised on the eighth day, a member of the people of Israel, of the tribe of Benjamin, a Hebrew born of Hebrews; as to the law, a Pharisee;
Phil. 3:6 as to zeal, a persecutor of the church; as to righteousness under the law, blameless.
The words we encounter in Romans are the words of revival & reformation to all believers – Gospel, Power, Salvation, Righteousness, Faith, – but have we considered with which ears we will hear these words with?
We need the ears of Paul and not the ears of Saul.  However most of us interested in this study are believers of many years and much experience – let's begin today with putting on Paul's ears and not Saul of Tarsus'.