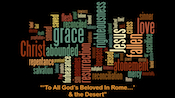 2Cor. 5:21 For our sake he made him to be sin who knew no sin, so that in him we might become the righteousness of God.
Rom. 5:8 But God proves his love for us in that while we still were sinners Christ died for us.
Rom. 5:9 Much more surely then, now that we have been justified by his blood, will we be saved through him from the wrath of God.
"Satan's purpose is to bring about an eternal separation between God and man.  But in Christ, we became more closely united to God than if we had never fallen."  Desire of Ages, p 25