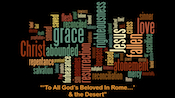 Rom. 14:16 So do not let your good be spoken of as evil.
Rom. 14:17 For the kingdom of God is not food and drink but righteousness and peace and joy in the Holy Spirit.
Rom. 14:18 The one who thus serves Christ is acceptable to God and has human approval.
Rom. 14:19 Let us then pursue what makes for peace and for mutual upbuilding.
As we conclude our study in Romans we get the final word on what "owing nothing to each other but love" looks like in a congregation that has many opinions on what a walk of faith looks like.