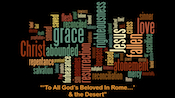 Rom. 6:1 ¶ What then are we to say? Should we continue in sin in order that grace may abound?
Rom. 6:23 For the wages of sin is death, but the free gift of God is eternal life in Christ Jesus our Lord.
After being told that sin may have "super abounded" in the human race from Adam but that grace "hyper abounds" all sin, Paul knows that an objection is coming and that is the question asked in verse 1.  It sounds like a "restriction" on grace.  But this chapter proves that God's promises are not nullified by our inability to believe them.
"If all we know about grace is that it does not give us license to sin, then we do not know grace."
Brennan Manning, The Ragamuffin Gospel